Overview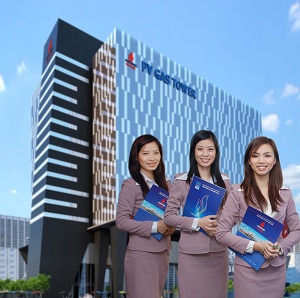 PetroVietnam Gas Corporation (PV Gas) is a One-member limited liability company, and the wholly owned member of the Vietnam Oil and Gas Group (PVN), which was established based on reorganizing PetroVietnam Gas One-member Limited liability company and some subsidiary companies of PVN.
PV Gas has its organization structure which consists of the Board of Directors, the Inspectors, the Board of Management, 17 divisions, administration and project management board and is the holding company of 08 wholly owned subsidiaries, 08 major share owned subsidiaries and 02 associated companies with more than 2,000 employees.
PV Gas' main activities
Gathering of gas and transporting, storing, processing of gas and gas products
Distributing and trading of gas and gas products, liquefied natural gas (LNG), compressed natural gas (CNG), liquefied petroleum gas (LPG), condensate; trading of materials, equipment, chemical substances in processing and using gas and in the gas products area; terminal and storing services
Investing in infrastructure, dry and wet gas products distributing systems
Distributing of LPG from the petrochemical refineries and other sources of PVN
Providing consulting services in design and developing feasibility studies of projects, implementing construction investment, managing, operating, maintaining, repairing gas and gas related projects
Researching applications in gas area, designing and renovating gas projects
Providing services in the gas area for repairing, maintaining, installing converting to gas equipment for vehicles, agriculture, forestry and aquaculture
Importing and exporting of gas products including dry gas, LNG, CNG, LPG, condensate
Importing of materials, equipment and facilities for the gas industry
Participating in investment in upstream gas projects
Financial investment, buying-selling of gas companies in Vietnam and abroad
Investing in buying, selling, transferring, negotiating and signing of contracts, projects, assets and gas works
Main products and services
Dry gas.
LPG
CNG, LNG, Condensate
Shipping, storage of gas and gas products
Consulting design, operation, maintenance and repair of gas projects.
Financial investment.
System of PV Gas facilities
Cuu Long's gas transportation system:
Offshore pipelines: a pipeline system gathering associated gas from the various gas fields (such as Su Tu Vang / Su Tu Den, Rang Dong / Eastern, Su Tu Trang, Golden Tuna ...) with a total length of 90km; Bach Ho - Dinh Co pipeline is 117 km, and with a capacity of about 2 billion m3/year

Onshore pipelines: three 25km-pipelines of liquid products from Dinh Co Gas Processing Plant (GPP) to Thi Vai Terminal (TVT); a 30km-pipeline of dry gas Dinh Co - Ba Ria - Phu My, with a capacity of about 1.5 billion m3/year

Dinh Co GPP, which has an input capacity of about 2 billion m3 of wet gas per year

Gas distribution stations (GDS).
Nam Con Son gas transportation system
PV Gas owns a 51% share. The gas transportation system consists of a 400 km long pipeline, with a capacity of up to 7 billion m3 per year, including a 370km offshore pipeline and a 30 km onshore pipeline from Nam Con Son terminal to Phu My GDC; and Phu My Gas distribution center.
PM3-CAA - Ca Mau gas pipeline project (Gas gathering from Malay - Tho Chu basin): 330km pipeline with a capacity of 2 billion m3 / year consists of:
300 km offshore pipeline
30 km onshore pipeline.
Gas distribution Center.
Condensate and LPG storages, LPG and CNG loading stations:
Condensate storage tank system: at Dinh Co GPP with a capacity of 2000m3; at Thi Vai terminal with a capacity of 13000 m3 Cuu Long condensate and 33000 m3 Nam Con Son condensate
LPG storage tank system: 6 storages with a total capacity of 15000 tons (at Thi Vai, Thang Long Gas, Can Tho, Dong Nai, Hai Phong ...)

CNG system: CNG trucks with a capacity of 3 tons per truck skid; and a CNG plant with a capacity of Phase 1 has 50 million m3 per year.
PV Gas's production and business activities
Dry gas consumption
Currently, with three gas supply systems (Cuu Long, Nam Con Son and PM3), PV Gas is providing nearly 25 million m3 of dry gas per day to consumers.
Wet gas consumption
For wholesale, to meet domestic LPG demand, in addition to LPG from Dinh Co GPP (about 30% of the domestic market demand), since 2008, PV Gas has carried out importation of LPG with refrigerated vessels, leasing floating storage of 50000 tons of LPG and market development to neighboring countries.
For retail sale, PV Gas is continuously developing its sales network, loading station systems, and storage. In the last five years, PV Gas supplied to the market over 1.9 million tons of LPG, amounting to 60% of the market share for wholesale and nearly 20% of the market share for retail in Vietnam.

Bach Ho Condensate is used to produce gasoline with a capacity of over 200000 tons of gasoline per year.
Services
The service sector contributes significantly to PV Gas business, amounting to 8% of PV Gas revenue. The transportation services of Nam Con Son gas and condensate always meet the requirements of Block 06.1 and Block 11.2's owners and give great support to Nam Con Son gas supply for its domestic customers. Every year, PV Gas transports 200000 tons condensate and participates in the BBC of transporting 5 billion m3 of Nam Con Son Gas.

In addition, some services such as gasoline trading, consultancy, gas and gas product equipment installation, design, maintaining and repairing also bring substantial revenue every year.
Outside investment
PV Gas has participated in the contribution of investment capital in certain areas of gas transportation and trading, as well as pipe coating in order to increase either efficiency of capital spent or support for PV Gas' production and business.

PV Gas provides 300-400 million m3 gas per year for low-pressure gas clients of small and medium size in industrial zones in Ba Ria Vung Tau and Dong Nai provinces; contributing to the promotion of unique investment opportunities in these provinces. PV Gas loads and provides nearly 150000 tons of LPG per year for household sector customers, amounting to nearly 20% of the market share and produces and supplies nearly 9 million m3 of CNG for industrial clients in the South Eastern provinces.
Investment and construction
In order to implement the main functions and tasks assigned, PV Gas focuses on investment in gas gathering, transporting, storing, and distributing gas projects. Many projects have recently completed the investment procedure and have been put into operation, contributing to the creation and development of infrastructure, increasing gas supply capability and the diversifying of clients:
Su Tu Vang - Rang Dong Gas Pipeline in 2009 with a capacity of 4 million m3 gas per day

Bach Ho northern field section Gas Pipeline in 2009 with a capacity of 80000 m3 gas per day

PM3 - Ca Mau Gas Pipeline in 2007 with a capacity of 2 billion m3 of gas per year

Low pressure gas System Phu My - My Xuan - Go Dau Phase 2 in 2007 with a capacity of 3 million m3 of gas per day

Phu My - Hiep Phuoc Gas Pipeline in 2009 with a capacity of 2 billion m3 of gas per year

Gas supply trains for Nhon Trach 1 Power Plant in 2008, Nhon Trach 2 Power Plant in 2010, and Ca Mau Fertilizer Plant in 2010

LPG stations in the areas of Ba Ria - Vung Tau, Nha Trang, Tien Giang provinces

CNG compression station with a capacity of 50 million m3 per year (phase 1).
PV Gas is actively coordinating with the concerned parties (PVN, PVEP, VSP, etc), to complete and put into operation projects to increase the ability of timely gathering and transporting of gas to shore such as in: Hai Su Trang – Hai Su Den/ Te Giac Trang – Bach Ho Gas gathering project in 2012; Song Doc - Hoa Mai Gas gathering project in 2013; Dai Hung, Block 01 &02 CNG gathering projects; Block B - O Mon Pipeline in 2013.
Other activities
To ensure PV Gas has sustainable development, PV Gas pays attention to research, organization, staff planning, training, employment , which are shown by the following:
Continuously improving the role of the Research for business operations; Perfecting the organization structure of research units (research units upgraded to center level). For 2006, PV Gas has had many themes and initiatives bringing practical advancements.

Completing of building and getting certification of management within an integrated system of Safety - Quality - Health - Environment from BSI – the British Standards Institute Group.

Staff planning, rotation and rejuvenation are made every year in PV GAS, its subsidiaries and associated companies.

Continuously improving the quality of staff recruitment and training based on clear and appropriate procedures and standards. Recruited employees have to undergo short-term training before work. Every year, there are about 2500 employee turnarounds participating in training in professional areas to support daily work.
Besides business activities, PV Gas also has a lot of annual socially responsible movements such as the recognition of Vietnamese heroes, maintaining charity and social welfare activities. Every year, PV Gas spends over one billion VND on average on social activities. Particularly in 2008, in response to the PVN campaign, PV Gas has built and handed over 300 houses for the great unification of the provinces in which gas facilities are located.
Through nearly 21 years of establishment and development, PV Gas is striving to reach a strategic target which has contributed to leading the gas industry to become one of the leading industries in the country's economy, a step by step penetration into international markets, and it has risen to the 4th biggest company in ASEAN, becoming one of the most well-known trademarks of Asia.
Currently, each year PV Gas provides gas to produce 40% of electricity, 30% of fertilizer market share and maintains over 60% of the LPG market share all over the country.
With the young, dynamic, enthusiastic staff, sticking with the development of PV Gas and PVN, PV Gas has completed and will always complete its tasks of contributing to ensure energy security and food security which the Government and the PVN are entrusted with.
With achievements, in recent years PV Gas has been (was) awarded many awards and titles of nobility at all levels, namely: Third-Grade, Second-Grade, First-Grade Labor and Third – Grade Independence Orders in 1997, 2002, 2007 and 2010 respectively since PV Gas has made outstanding achievements in its work from 1993-1997, 1997-2001, 2001-2006 and 2006-2010 contributing to the industrialization and modernization of the country, ensuring energy security, development and protection of the Motherland. Annually, PV Gas, its individual and subsidiaries receive Merit of the Government, Ministry of Industry and Trade, PVN and Provinces, etc. At the National Day celebration, PV Gas received honorably the Vietnam Gold Star Award in 2008 and 2009.